The Expanded Migration Experience 2020

Aug 1st - Aug 14th 2020

3 spaces available

Land cruisers !! Chartered flights!

I only take 6 people.

I have, upon request, expanded the Migration tour to include 2 other camps with a diversity of wildlife along the way. I have 3 land cruisers at our command. Each person having their own seat row. I rotate riders that need help to be in the jeep I am in.

Are you ready to take your camera to the wild side of photography? I start the newly expanded tour with a staple favorite, no visit to Kenya is complete without a private visit to the David Sheldrick Wildlife trust, to have a visit with the orphaned baby elephants. We will also visit the "tall blondes" at the giraffe center. Learn how the Rothchilds and Reticulated giraffes are in huge decline.

The following morning, we head toward Ol Pejeta Conservancy , it is a 140 sq. mile not-for-profit wildlife conservancy and it is also home to the last 2 remaining Northern White rhino . Afternoon game drive

We will spend 3 nights at this wonderful camp in luxury tents. The Sweetwaters Chimpanzee Sanctuary is situated here, and provides a haven for orphaned, abandoned and rescued chimpanzees. It is the only place in Kenya where these great apes can be seen. The rare Grevy's zebra and African wild dogs can, on occasion, be seen here as well.

Lioness in the evening light at Ol Pejeta. A wonderful diversity of wildlife awaits you there.

Black Rhino . Ol Pejeta boasts the largest black rhino sanctuary in East Africa.

Upon game driving out of Ol Pejeta, we will head toward the fantastic Lake Nakuru.


Several rare species can be found here. Lake Nakuru is home of the rare Rothchilds giraffes but as of late, I have spotted some reticulated giraffes there as well. (pictured above)

The bird life at the Lake is mind blowing. Flamingos, pelicans, African fish eagles and too many more to list. There are parts that are huge canopies of lush forest, on occasion, one can see a sleeping leopard in the growth.

One can find lions, leopards, rhinos, waterbuck, zebras, and one of the big 5, Cape Buffalo . We stay at a wonderful lodge, that I love. I sit on the balcony at night and listen the wildlife sounds below me . Both white and black rhino can be seen here.

After 2 wonderful nights in Lake Nakuru, we will game drive out on our way to the crown jewel, the Maasai Mara National Reserve . Your home for the next 6 nights. We stay in The Mara Triangle Conservancy area. Sunrises and sunsets in Mara are legendary.

Each year enormous herds of wildebeest, zebra and other herbivores, make the journey from Tanzania to the Mara for the new rich grass from the rains. They are followed by a list of predators that wish to take advantage of the overwhelming wildlife rush.

Over a million wildebeest make this treacherous crossing every year, along with zebra and other grazers they have to cross waters that can be, but not always, home to crocs.

We stay out from before sunrise to sunset, and bring box lunches with out. You never know when the action may go down. There is an abundance of wildlife in the Mara.

I teach you to work with the light. As with wildlife, sometimes you don't have a choice when they decide to appear, but changing exposure techniques can render some wonderful results. Working with light, different focal lengths, shutter speeds and angles brings different results to your imagery.

While we are out in the land cruisers everyday, and we eat together at the lodge at night, it gives us many chances to talk about the days images, and what might be done different. Sometimes, it isn't the whole animal that needs to be in your image.

I love black and white , which in harsh light, can help improve images.

During your 6 nights in Mara, you will have a chance to encounter much wildlife, but also remember, patience is needed. Sometimes crossings take a while before the wildlife crosses. We do our best to get you the best wildlife viewing possible.

Upon your 7th day in Mara, we will game drive until the afternoon, and then head back to the lodge, to retrieve your luggage, and then game drive to the airport. You will be flown via charter to Nairobi. We have a day room for you at a hotel near the airport where you can freshen up before departing home with all your wonderful memories and possibly, new friends.

IMPORTANT NOTE
This is a photographic tour and you will need to have at some knowledge of your camera. The action goes down fast and even though I am helping with the settings, you have to know where things are on your camera, I do recommend gear that will yield you the best chance of capturing the images you dreamed of.

Unlike some of the photographic tours run by others, we start when the park opens, sometimes before first light in the morning and go until the park closes at 7pm. Boxed lunches are provided! We can spend the whole day looking for wildlife and scenery. Game drives can be up to 10 hours! We will using 4 wheel drive safari land cruisers with guaranteed window seats . 3 guests per jeep with 1 photographic instructor in 1 jeep.

I will contact either via phone or e mail to evaluate the equipment you have and if you might want to upgrade or rent to insure you get the images of a lifetime, as you are taking the trip of one!

PLEASE READ: There is no smoking while out on the game drives.

Patience is required for this tour! We sometimes sit for hours waiting on a crossing that may or may not happen. The radio for the park is on and if there is a good sighting, we can make a choice to leave to see it. Just so you know, if you leave your spot, chances are you won't get it back. So Patience, bring it with you.

TERMS AND CONDITIONS, CLICK HERE

Click the Terms and Conditions for deposit and payments.

Safety Information... All foods prepared by the lodges will be safe for you to eat. Travel insurance must be purchased before your travel date.

Price of per person sharing is $ 7,940.00

Includes

Hotel the night of the 1st and 2nd of Aug.

in Nairobi

Meet and Greet at the airport

Group pick up at the airport

Exclusive Charter flight service – fly to Nairobi from Mara

All ground transport and Game drives, in a 4 wheel drive safari Land cruiser with guaranteed window seats (3 Land Cruisers)
3 nights accommodation in Ol Pejeta, park fees, meals, etc
2 nights accommodation in Lake Nakuru , park fees, meals, etc.
6 Nights full board accommodation at Masai Mara
Park fees daily for the conservancy
Extra park fee on last day so we can game drive longer
Dinner at Carnivore on Day 2
Photographic help while on tour
Phone calls/e mails/ before you leave
Help with shots/Visa's and travel insurance options
Help in evaluating your gear and what you need to bring
entry into the Giraffe Centre
Private visit David Sheldrick
All meals while you are on tour. (except the lunch on day 2 ) (Some places you will have to pay for your water and drinks with meals at the hotel. )
All games drives in the parks
All park entrance fees
Knowledgeable and experienced tour guides

Not covered in the pricing

Hotel stays in Nairobi after the tour is over if you stay longer.

Drinks with your meals
Tips for guides/porters/and your drivers
Travel insurance, Travel Visa's and shots
Airfare to and from Nairobi.

TERMS AND CONDITIONS CLICK HERE
Itinerary for Migration 2020
Aug. 1st 2020

Migration 2020 Itinerary

Aug.1ST 2020

Arrive in Nairobi anytime during the day. You will be met by our meet and greet service to help you through customs!Overnight in Nairobi

Aug. 2nd 2020 morning breakfast, then a short trip to the Giraffe center to meet the "tall blondes" , on to a quiet place for lunch, shopping to pick up snacks, and then rest up and save room for dinner at Carnivores

Aug 3rd -2020 Breakfast in the morning and then we head to Ol Pejeta Conservancy for the next 3 nights. Afternoon game drive .

Aug 4th 2020 Morning and afternoon game drives in Ol Pejeta. The last 2 remaining northern white rhinos are kept here.

Aug. 5th 2020: Morning and afternoon game drives in Ol Pejeta, The Conservancy boasts the largest black rhino sanctuary in East Africa.

Aug.6th 2020- Game drive out of Ol Pejeta and we head toward Lake Nakuru,

your home for the next 2 nights. Besides big wildlife, Nakuru is know for its magnificent bird life.
Aug.7th 2020- All day game drive in Lake Nakuru , one of the biggest populations of white rhino. And fantastic bird life.

Aug 8th 2020, Game drive out of Lake Nakuru and head toward the Crown jewel of Kenya, Maasai Mara National Reserve . Your home for the next 6 nights. For the World Famous Migration .
Aug 9th-13th 2020-

All day game drives in the The Mara Triangle Conservancy,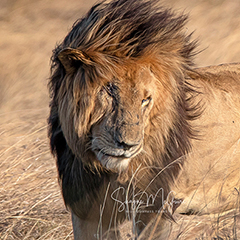 Aug 14th, We game drive until our chartered plane back to Nairobi is ready to go in the afternoon. Upon landing back in Nairobi, you will have a day room at your leisure, until your flight departs. If you wish to stay an extra night, it can be added to your tour cost.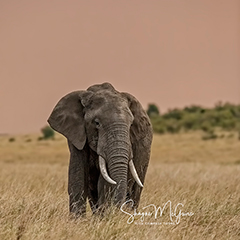 Bring a big lens, a small attitude and an open mind.

Shayne McGuire

-
©2020 Shayne McGuire. All Rights Reserved