The Juneau Experience Tour
July 8th -14th 2017 is FULL!
June 30th- July 6th 2018 (1 space left)
July 6th -July 12th 2018 (FULL)
We only take 4 people each tour! Your own private boat for 3 full eight hour days! One more semi private boat for the icebergs/glaciers.

(Optional 4th day out on the private boat)


Your Lodging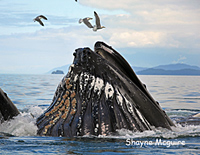 All guests will stay at Auke Lake Bed and Breakfast outside Juneau. The B&B has wireless internet and a stand alone computer if needed. All rooms have a small refrigerator, private bathroom and laundry if needed. The breakfast is a help yourself continental style that consists of fresh fruit, cereal, muffins, pastries and coffee.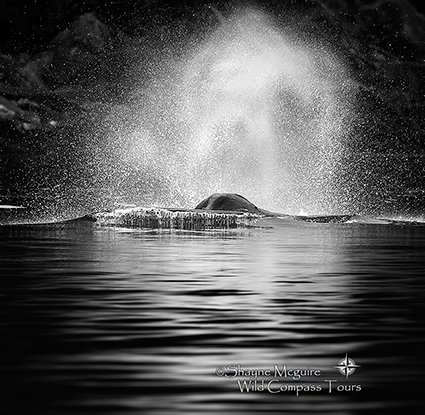 The Boat
Our Boat
A 26 foot boat will be used for the whale tours. Fissues is owned and operated by Captain Kevin Burchfield of Juneau. Capt. Kevin has over 21 years experience in the fishing and touring field. Since there are only 4 guests per tour, we have the boat to ourselves and can spread out.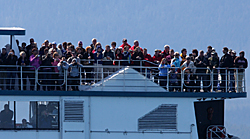 Their Boat
Lunch will be provided on the boat, if you have special dietary needs, please let us know before the tour starts. Please note: we are on the boat for 8 hours each day and there is NO smoking allowed on board! Captains orders!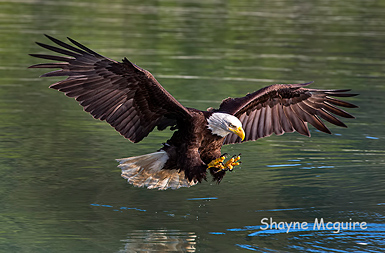 Fjord Cruise-Tracy Arms Fjord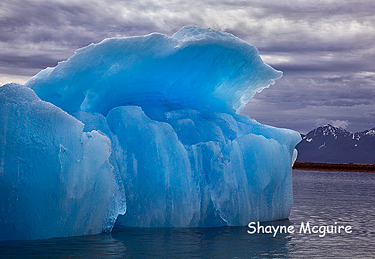 The Tracy Arms Fjord cruise is in a larger boat that has a comfortable cabin and nice seating. The inside is heated. Captain Steve is informative and funny. There will be up to 35 people on this boat, but you will still have plenty of room to move about. Captain Steve circles the icebergs and moves in close to the glacier so you will enjoy up close views. You can either bring a sandwich or buy one on board. Bring a warm jacket and rain coat. It can drop to around 40 degrees near the ice. Coffee, snacks, water and soft drinks are also available.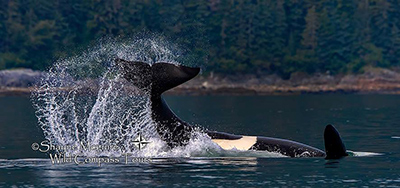 Experience the sound of the glacier as it "talks" before it calves, watch as ice breaks to the surface beaming a brilliant blues, hitting the air for the first time in centuries. We have encountered, whales, orca, eagles, black bear and brown bear along the way. This is about a 8 hour trip. There are a few photography tips that will help you capture the brilliant color of the icebergs.
If you choose the additional 8 hour day out on the boat, you will pay the captain $315.00. If all 4 guests agree, we go. If only a couple agree, then the day is spent around town and sightseeing. If 3 go and the 4th doesn't want to go, then we decide the best course of action. I will say, that many times, that 4th day is the best! If we get shut down a day for bad weather, and have opted for the additional day, I use that day as the bad weather day, and move our 3rd day to when the additional day would be.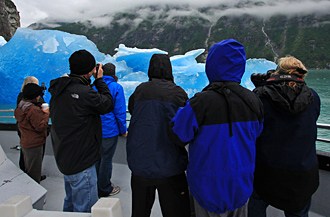 Supply Suggestions
Bring sturdy shoes for walking around Juneau and also for the Tracy Arms trip. Tennis shoes will not keep your feet warm or dry. If you don't have the proper rain gear, we can recommend some for you. Juneau has a camera store if you need something. I will e mail you a list of clothing both for you and your camera, as Juneau weather conditions can change fast. Waterproof jackets and pants are necessary.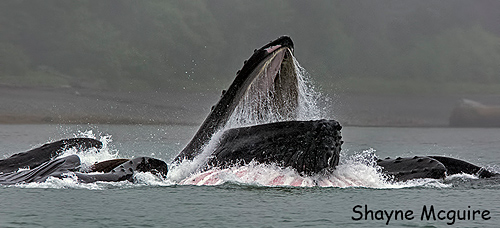 This is a photographic tour and while we help with equipment and settings, you must have standard knowledge of your camera. This is not a workshop. The action sometimes goes down fast! I do recommend equipment that might help you achieve the images you desire.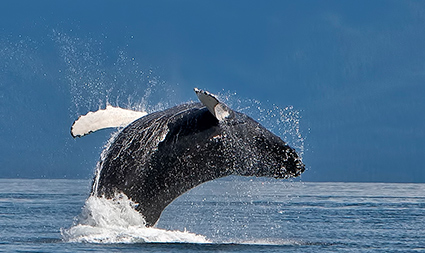 Dining at the end of the Day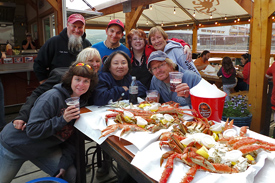 After finishing up our tour each day, we will be heading back into Juneau for dinner. There not a lot of choices in dining. We recommend Tracy's Crab Shack for the freshest King crab in town, or the World Famous Red Dog Saloon. The folks at Tracy's know us on sight, you will always get more than you bargained for there!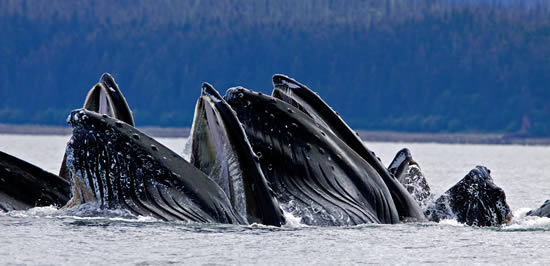 Price for the Experience is $3,450.00
Per person-
non sharing, you can have your own room.
See Terms and conditions for deposits and payment schedule.
VIEW OUR TERMS AND CONDITIONS HERE
Please note, We reserve the right to decline your deposit if we feel you aren't able to meet the physical requirements of the trip!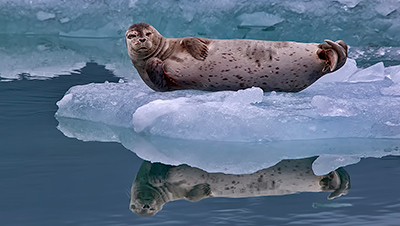 INCLUDED IN THE COST
Lodging for the 6 days you are in Juneau
Transportation to and from town/boats/tours

3 days of 8 plus hours & guide on a private boat, (tour members and captain only) lunch is included.
1 day guided tour of Tracy Arms Fjord, no meal included, but can be purchased on the boat.
plus visits to Mendenhall Glacier, Juneau and Douglas Island, eagles, and/or the fish hatchery experience. ( Or you can take one of the optional tours listed below at extra cost)
Transportation to and from the airport, the marina, and downtown Juneau.
Transportation to meals
Help with settings, shutter speeds, metering and any other questions.
Fact sheets on how to dress, what to expect, best equipment, keeping dry and more.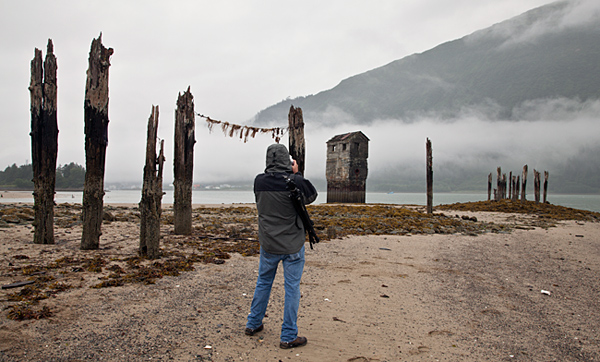 Optional Excursions Offered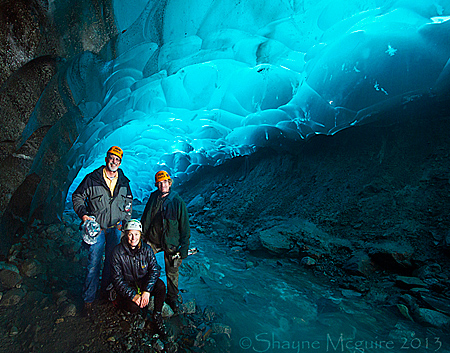 Extreme trekking glacier style!. This is listed as STRENUOUS!!! More ice caves are forming now below the glacier. You will be lead by a professional guide!!!The price of the optional excursion is NOT included in the tour pricing. YOU MUST BE ABLE TO CANOE AND HIKE FOR THIS !!!We canoe across Mendenhall to the glacier, then hike up the glacier to the ice caves. 6.5 hours total tour. You pay the guide and must be able to keep up and be able to paddle for more than a hour across the lake. I reserve the right to decline your request if you aren't capable of this hike.
Not covered in the pricing
All other meals.

EXTRA DAY OUT ON THE BOAT $315.00

per person

Airfare to and from Juneau.
Additional tours/excursions
Tips/gratuity for captain and crew if you enjoyed their service
Images & Itinerary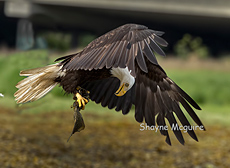 Itinerary for the Whale/Glacier Experience Tour July 8th –July 14th 2017 FULL

July8th

Arrive in Juneau. You will be taken to the Auke Bay B&B to drop off your luggage. Then to downtown Juneau for a bit of sightseeing, shopping and dinner. If you are on for the additional ice cave hike, then you would arrive early morning.

July 9th Whale/wildlife

photographing on a private boat 8 hours Also after the boat, we go down to view the eagles fighting over the salmon as the tide goes out. Dinner at Tracy's Crab Shack (optional)

July 10th. Whale/wildlife

photographing on a private boat 8 hours Also after the boat, we go down to view the eagles fighting over the salmon as the tide goes out.

Also possibly Mendenhall Glacier for wildlife as well as the Glacier itself.

July 11th Tracy Arms Fjord 8 hours-more eagles if time and weather allow.

July 12th

Whale/wildlife photographing on a private boat 8 hours Also after the boat, we go down to view the eagles fighting over the salmon as the tide goes out.

July 13th- (optional 4th day out on the water with the whales, an extra $315.00 per person)or

Walking up to Mendenhall Glacier, go to Salmon Falls, Eagle Creek, and photographing several totem poles in town. Along with other excursions.

For those of you that want a bit more, as in glacier hiking, landing on a glacier, ice caves and more, we can recommend the tour group to take you. This cost is not covered in your payment.

July 14th

Depart Juneau -unless you are staying on for other activities.
Then you must book your own lodging.
Please check your ego and your attitude at the gate before take off to tours. You can reclaim your baggage upon returning home, if you wish.
Shayne McGuire
©2017 Shayne McGuire. All Rights Reserved