Khutzeymateen
I only take 4 people!!!
6 day trip- June 16th-22nd 2019 (3 spaces left)
4 day trip- June 21st-25th 2019 - IS FULL
Less than 200 people per year have the opportunity to view the magnificent Khutzeymateen grizzly in its peaceful kingdom.
The lush Khutzeymateen Valley is a unique wilderness treasure. Located on the northern BC coast, Canada's only grizzly sanctuary lies within the last remaining intact coastal temperate rainforest. This stunning river estuary is the perfect habitat for the grizzly bears.
Only two outfitters are licensed to take small groups into this wilderness area, my group is only 4 guests!
The Khutzeymateen Provincial Park Grizzly Bear Sanctuary was established as a Class A Park in 1994 as the first area in Canada to be protected specifically for grizzly bears and their habitat. Class A parks are dedicated to the preservation of their natural environments for the inspiration, use and enjoyment of the public.
Khutzeymateen is called the Garden of the Grizzlies, but other wildlife can also be seen on occasion, such as black bears, coastal wolves, wolverines, mink, otters, porcupines and beavers. There have been whales frequent the area and over 100 species of birds are also found in the valley.
Visitation is strictly regulated with only 2 commercial operators allowed into the sanctuary. Other tour operators are allowed to view grizzlies, but from further out in the Khutzeymateen Inlet. Our group is one of the 2 allowed in.
During the time we are there, the bears will be eating sedge grass, and roots near the shoreline, or grazing in the estuary. Grizzly behavior at that time of year could include courting and mating, dominance struggles, sibling play and , mother-cub interactions.
We will be staying on a boat while we are out in the Khutzeymateen Inlet. A few things you should understand before booking. It is all shared accommodation with one shared private washroom with limited hot water shower facilities. If you are looking at having hotel  style accommodations, then this is not the trip for you. This is a wonderful grizzly bear experience in rustic conditions in the wild wilderness of northern B.C.  What we give you is 5 star bears.
We can only go up the estuary on a rising tide and do so everyday for at least 2 -4 hours or longer. We do this in a large inflatable boat. We also cruise the inlet daily looking for grizzlies eating the tender sedge grasses, and when spotted we will observe them from the deck of the yacht or in the inflatable. We make that decision at the time depending on the bear.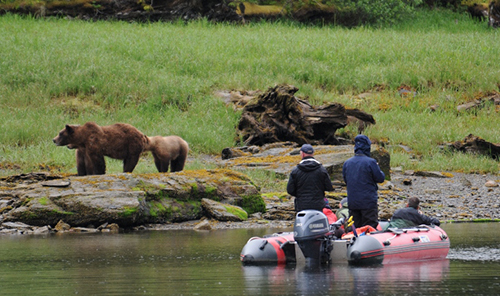 You should have a good familiarity with your camera and gear. You will need to know where your settings are how to change them. There is minimal talking when the bears are in front of us. I will give you the tools to work with, and help you to apply them to achieve the quality of image you hoped for. In order for this to work, you should bring the recommended gear and listen to the advice given and be able to change fast out in the field.
I do call each client, assess your photographic level, and your gear. We sometimes make recommendations on renting equipment that might serve you better out in the remote wilderness. And to make sure you understand the boat is not large and we will be together there for 4 days.
You will fly into Prince Rupert, and your lodging for the night of June 21st has been taken care of. The next morning we will fly out to your new home, on the boat, for the next 4 days
Because we are in a remote part of the wilderness, cell phones and internet will not be working. But why would you want to be on your phone or your computer, when you have such wild beauty in front of your eyes and camera lens.
Three meals are served daily, not necessary at the same time depending on the viewing situation. We generally rise at 6am and retire around 9pm.The 4 day, 3 night trip means that you will sleep on the yacht 3 nights and be in the Khutzeymateen Sanctuary or area for 4 calendar days or part of, but not four 24 hour days.
No tripods are necessary as all shooting is done from the inflatable boat or the boats deck. No huge telephoto lens are needed either. I will advise you of gear after I receive your deposit.
2019 is $2,695.00 per person for the 4 day trip
The 6 day trip is $3,685.00 per person for 6 days
There is NO single supplement. This cost includes
Your float plane flight from Prince Rupert to

Khutzeymateen and back

1 night stay in Prince Rupert before the tour

All meals while on the boat

Guiding and transportation for all activities
Daily outings in the boat.
Photographic help during your days
Phone calls/e mails to prepare you
E mails that include, what to wear and what to expect.
WHAT IS NOT INCLUDED
Airfare to and from Prince Rupert
Meals while not on the boat
Any extra days you wish to spend in Canada .
We will be in the remote part of the island, so what clothing you bring will be important. You will receive a phone call from me going over your camera gear and what you will need to achieve the images you expect. And what clothing to pack. Since we fly over on a small float plane, one soft duffel bag is all you need.
Terms and Conditions. About Wild Compass Tours
Any questions, please don't hesitate to contact us.
©2018 Shayne McGuire. All Rights Reserved

Itinerary for 2019
June 16TH 2019 (4 day tour June 21st)

Land in Prince Rupert, your lodging has been taken care of for that evening.

June 17th (4 day tour June 22nd)

Take an early morning float plane flight out to your new home on the boat. (Unload your gear and head out for some world wildlife viewing!

June 18-21st (4 day tour June 23-24th)

Early breakfast, then off for bear viewing. Depending on tides, weather and conditions, we will make 2 trips out in the boat to see and photograph the bears.

June 22nd (4 day tour June 25th)

Early morning breakfast, viewing is dependant on when the float plane comes in to pick us up. Back to Prince Rupert. Your tour is over but if you wish to stay and enjoy the beauty you are most welcome to.

Please check your ego and your attitude at the gate before take off to tours. You can reclaim your baggage upon returning home, if you wish.
Shayne McGuire